The Gay Conspiracy Uncovered
March 17, 2008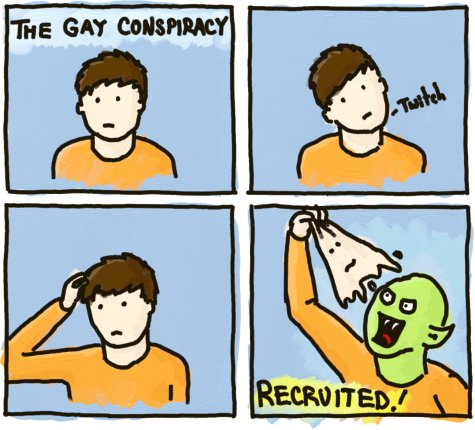 A Catholic bishop in Scotland announced last week that gay people have mounted a "huge and well-orchestrated conspiracy" crafted exclusively to destroy Christian values. Speaking at a packed lecture in Glasgow, Reverend Joseph Devine simply couldn't contain his shocking discoveries:
The homosexual lobby has been extremely effective in aligning itself with minority groups. It is ever-present at the service each year for the Holocaust memorial, as if to create for themselves the image of a group of people under persecution.
Can you imagine the nerve of us gays, honoring holocaust victims as if any of them were persecuted for being gay themselves? But, as a gay, incapable of human emotion, I shouldn't be surprised that he saw right through that cunning stratagem.
That's not all that the Reverend Devine discovered about the grassy knoll, mind you:
In this New Year's honours list, I saw actor Ian McKellen being honoured for his work on behalf of homosexuals, when a century ago Oscar Wilde was locked up and put in jail. It's a very small group of people, but very active and organised—and extremely indulgent.
Ah, yes; don't we all wax nostalgic, now and then, for those halcyon days of old when gay people like me were simply locked away instead of insisting on all these crazy indulgences like equal rights? Surely those were simpler times…
Luckily, our great conspiracy is seeing an end to all that. And as long as this Reverend doesn't uncover the giant homosexual space laser orbiting Earth until the day of prophecy, we shall always be a few steps ahead!