Island Of Lesbos Sues Gay Group Over Term "Lesbian"
May 2, 2008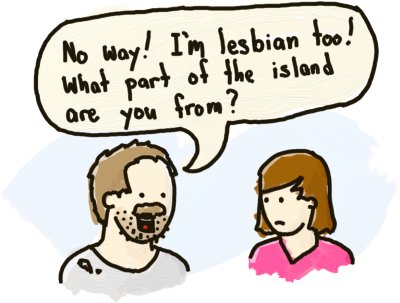 Here's something new: Three residents from the Greek island of Lesbos are suing the Homosexual and Lesbian Community of Greece for using the term "Lesbian" in their title. Dimitris Lambrou, one of the plantiffs, explains:
My sister can't say she is a Lesbian. Our geographical designation has been usurped by certain ladies who have no connection whatsoever with Lesbos.
The court papers says that Greece is so ashamed by the word Lesbian that they've changed the island name to Mytilini, after its capital. Still, if the lawsuit is successful, the islanders plan to bring about similar lawsuits internationally.
So, I guess that means we should start looking for a new word for gay women—just in case.
I suggest "Albertan."