And Now, Some Anonymous Hate Mail
June 27, 2008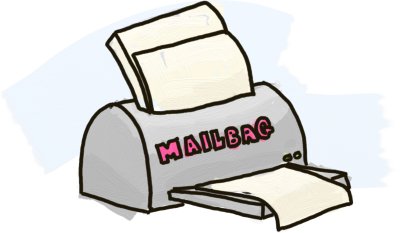 Most disagreements that arrive in my inbox are encouragingly civil; the few that aren't normally simmer down after some friendly communication. Every now and then, though, I take the time to respond to concerns from a particularly nasty message only to discover that the email address is fake—posted anonymously from the guestbook or some other online source. These are their stories.
Jonny from Calgary, writes:
As you boundless hatred for Calgary (and I suppose those of us who are out and proud and making this city more fabulous than you ever could) is so evident I'm shocked at your complete lack of awareness or reflection on your own adopted city. In particular, your post about Calgary being Canada's "hate crime capital" was full of your typical ignorance. Calgary actually KEEPS hate crime stats (other cities do not- Saskatoon for example reported zero hate crimes to statcan because Saskabush police don't bother keeping stats) AND Calgary counts every instance of vandalism (by far the most common "hate crime" here) as a separate crime- so when two yahoos (from Quebec, naturally, the source of most of this country's racists) painted swastikas all over garage doors in Hillhurst, EVERY ONE counted separately as a hate crime. That was a dozen hate crimes! Toronto doesn't do this, and Montreal- well guess what city has the highest rate of hate crimes based on victim surveys (not based on police practice?) MONTREAL, my misinformed girlfriend! Montreal, home of the synagogue bomber AND the people who attack hijab-wearing women, not t mention the murderers of "feminists" en masse. Do you even bother to ask why Calgary has, now, more (more by far) visible minorities AND immigrants per capita than does Montreal? It's because you live in the black heart of racism and hate in general in Canada. But then that's probably what attracted you there in the first place.

You're a decent illustrator but regardless I am going to make damn sure that you never get more work from Calgary magazines. Asshole.
Ouch! OK, I surrender! Calgary is friendly; just, please, stop pummeling me!
In fairness, I like to poke fun at Alberta (my home province), and especially Calgary, for its inordinate number of anti-gay lobbyists, but I don't hate it. I rib because I love. Calgary is where I got my master's degree and, more importantly, where I met my fiancé.
I do believe there is a connection between hysteria over gay people and hate crimes, so the Statistics Canada report about Calgary having the highest per-capita hate crime rate was a good opportunity to write about how anti-gay rhetoric (which frequents the Alberta media) has unintended consequences.
Hitler Youth (Somehow I don't think that's his or her real name) writes:
I love what you are doing with your website. If we can continue to indoctrinate the youth of this world to reject critical analysis of any and all ideas that conflict with the LGBT agenda, then someday soon we will RULE this world because nobody will have any idea how to argue against ANY of our ideology. The Fuhrer did it once successfully and so with consistent effor we will be successful too. Long live the revolution.
Oh, you! You're a hoot.
Well, have a great weekend, folks! And, while I'm on the subject, thanks to everyone who has written in with encouragement, kind words, and even civil disagreements. Be sure to check out my full-page illustration in today's Swerve Magazine on the upcoming Alberta Rockies Gay Rodeo!