Lobby Group's Gay Obsession Backfires
July 2, 2008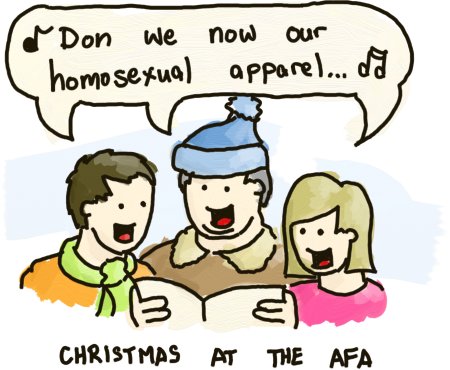 The American Family Association, an anti-gay lobby group based in the United States, is well-known for altering copy from Associated Press stories on their OneNewsNow website. In particular, they invariably change all occurrences of the word "gay" to "homosexual." It's dishonest journalism and against AP policies, but hey—they like their obsessions.
It's not a random decision, mind you. The AFA and other anti-gay lobby groups prefer the term "homosexual" because it's more clinical-sounding and negative compared to gay. It also keeps focus on sexuality and sexual behaviors, while de-emphasizing love and humanity, which is precisely what's needed if they are to counter simple human rights for gay people.
Still, when I say that they invariably change gay to homosexual, I mean invariably.
Let's take a look at how they re-printed an AP story about Tyson Gay, an American sprinter:
Tyson Homosexual easily won his semifinal for the 100 meters at the U.S. Olympic track and field trials and seemed to save something for the final later Sunday.

On Saturday, Homosexual misjudged the finish in his opening head and had to scramble to finish fourth […]
Fascinating. And NBA star, Rudy Gay?
Memphis Grizzlies backer hit the hay hoping that Kevin Love would open things up for Rudy Homosexual in the frontcourt.
What a hoot! Bravo, AFA; you've discovered the downside to auto-replace!
(And a big 'ol hat tip to People For The American Way for the story.)