Male Strippers Anger Legion Member
July 30, 2008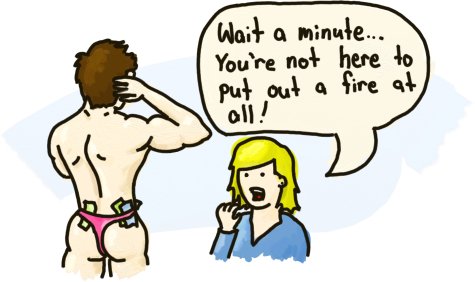 A group of male strippers from Las Vegas danced for a Legion fundraiser in Prince Edward Island last week, prompting one member to complain to the media. The dancers, who stripped down to their undies for an audience of cheering women (and some cheering men) were booked by the Legion, who called the event a great success.
28 year-old Legion member, W. MacAusland, however, was disgusted and angry. While he made a special point of mentioning that he didn't actually attend the event, he said a friend in attendance was so disgusted that she left after 40 minutes. (That, of course, being how long it takes to exceed your tolerance for the strip show that you paid to attend…)
MacAusland is now demanding that the Legion apologise to… themselves, I guess, for allowing strippers into their own club, or he will tear up his membership.
Legion manager Robert Palmer said the fundraiser was a hit, and that they will book the Las Vegas troupe again.
Update May 17, 2014 : MacAusland's first name has been redacted by request.