Tony Clement Embarasses AIDS Delegates
August 18, 2008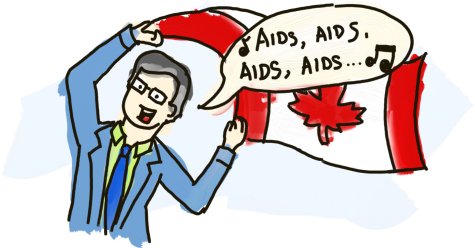 Canadian AIDS delegates at the International AIDS Conference in Mexico were embarrassed by Health Minister Tony Clement, according to reports at Xtra.
Richard Elliott, director of the Canadian HIV/AIDS Legal Network, expressed his concern and disappointment, calling Clement's performance "an embarrassment for Canada":
It's become very clear that we have a health minister, and presumably a government behind him, who are denialists. It's similar to the condemnation the South African government received for denying that HIV causes AIDS.
Though I'm not exactly sure what Mr. Clement did, I can at least confirm that no lampshade hats or naughty xerox pranks were involved. Still, while the rest of the world is making the fight against AIDS a higher priority, Canada has been lagging. Stephen Harper was a no-show when Canada held the conference in 2006.
AIDS workers and researchers have been disappointed with Canada's role in the fight against AIDS worldwide, blaming the government for a lack of funding and action.
Hat tip to Matt at Queer Liberal for the story.