Hallmark Introduces Gay Wedding Cards
August 22, 2008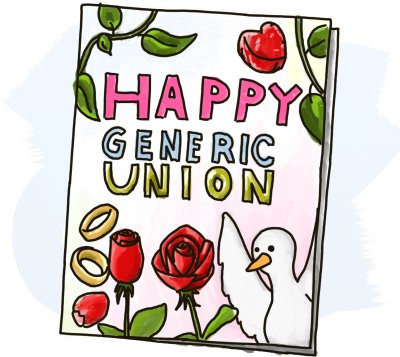 Hallmark, the internationally beloved greeting card company, is introducing a handful of cards suitable for presentation at gay weddings this year. While the company made a special point of mentioning the new products were due to demand and not to make any sort of political statement, the cards are surprisingly neutral. The card cover features, at the buyer's option: A pair of tuxedos, roses, or hearts with a simple offering of best wishes on the inside. The word "marriage" isn't to be found anywhere.
Hallmark spokesperson Sarah Gronberg Kolell was pleased with the new cards, saying the market is ready for gay-themed products after California's recent legalisation of same-sex marriage. In explanation of the card's kid gloves approach, however, she added: "It's our goal to be as relevant as possible to as many people as we can."
Aw, how inclusive. Though, to fit in with this goal better, I'm told the next batch of cards will feature androgynous cartoon couples accompanied by the text "Best wishes for a generic celebration with family and friends, either religious or non-denominational, in recognition of your unification for life, or perhaps until a regional government amends their constitution to nullify said union."
Sniff… Does anyone have a tissue?