Vatican Orders MP To Leave Parliament
September 5, 2008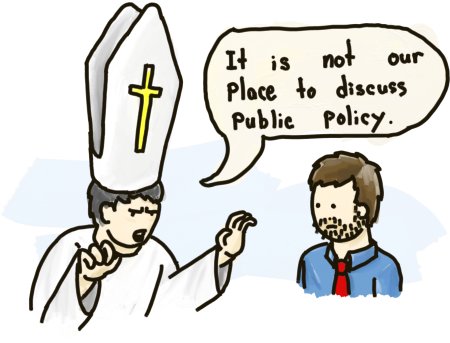 The Vatican has ordered a Bloc Québecois MP, Rev. Raymond Gravel, to quit his post in Canadian parliament and return to being a Roman Catholic priest. Vatican officials indicated that Gravel's support of same-sex marriage and women's rights were the cause of the order.
This isn't the first time The Vatican has ordered a public official to leave politics. From a Globe and Mail article: (emphasis mine)
In 1984, the Vatican also ordered Rev. Robert Ogle to give up his New Democratic Party seat in the House, in a bid to avoid a blurring of lines between the secular and spiritual worlds.
You heard it here first, kids: The Vatican always abstains from debating or influencing public policy!
Rev. Gravel expressed disappointment at having to leave politics, but said he had no choice but to comply, as being a priest was his first calling.