Gay Conservative Candidate Resigns
September 26, 2008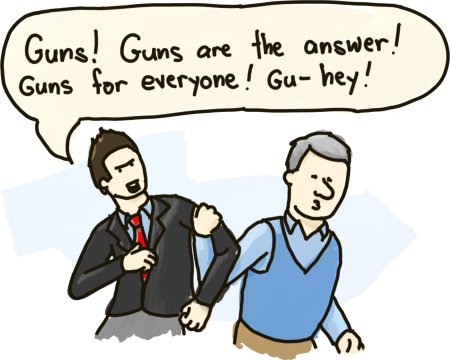 Chris Reid, one of very, very few gay Conservatives, has resigned his candidacy in the riding of Toronto Centre over some pretty odd comments.
In a now defunct blog entitled Political Thoughts from a Gay Conservative, Reid said the gay community was intolerant and only capable of "promoting promiscuity, drug usage, and prostitution" and declared that Canadians had become "a castrated effeminate population" because they don't carry concealed handguns:
[Concealed handguns are] the only proven way to reduce violent crime and murder. If women and gays really wanted to stop being victims of hate crimes, they'd be in support of this, but judging from discussions, they'd rather be helpless and rely on government.
Oh yeah, Toronto Centre would be so into this. The only proven way to reduce violent hate crimes: thousands upon thousands of handguns!
Tip o' the hat goes to Montréal Simon for the story.