Election Sign Vandalism is Ridiculous
October 8, 2008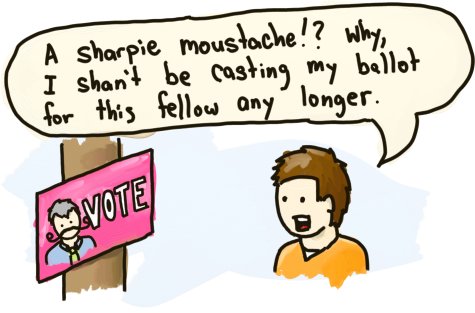 After reading about an anonymous vandal who wrote anti-gay slurs all over a gay MP's election posters, I got to thinking a little bit about election sign vandalism in general.
I'm not a fan of election signs, to understate the matter a tad. Election season is visual mayhem at its most mayhem-y. It's like if Satan, Attila the Hun, and Cruella de Vil all got together to form an advertising enterprise, enslaved humanity in the corrugated plastic mines, and used all their resources in a conspiracy to eliminate depth-of-field. Trees? Think of them as nature's signposts! Lampposts are just long necks for headshots. Heck, why not use election sign pillars as a post for even more election signs?
That said, I can't say I understand the purpose of vandalizing election property.
For one, vandalism actually makes the signs uglier. Second, as far as communicating one's political leanings goes, it's not worth the effort. I mean, say you really, really disagree with an election candidate. Will painting an eyepatch on him sway voters? Would anyone walking along the road suddenly believe the candidate has switched gears partway though the election to reveal himself as a fearsome, swashbuckling pirate? (Whatever swashbuckling means, anyway.)
There's also a chance that sign-seers would feel compassion for the vandalees. While all parties are surely victims when it comes to poster-haters, those that draw the most shocking or widespread vandalism could garner at least some sympathy, maybe even in the form of votes. That's why vandalism as a means of political expression is fundamentally counterproductive.
Personally, I think seeing the word "fag" scrawled over Scott Brison's signs should be cause enough to remind people that homophobia is very much alive and well, and has definitely reminded me why we absolutely need gay representatives and supporters who will help put a stop to it.
So, for those of you who absolutely feel compelled to damage, cut, or otherwise modify election property, may I suggest that you just indiscriminately remove the freakin' eyesores altogether and write a letter to the editor instead. The horizon will thank you.