Tories Ditch Film Censorship Bill
October 10, 2008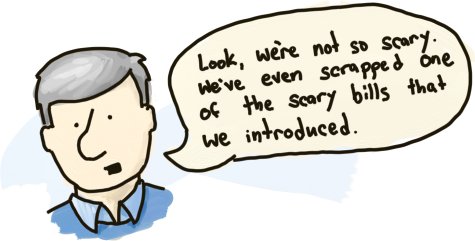 The federal Conservatives have withdrawn a film censorship clause from bill C-10. The clause, which would have allowed the government to withdraw tax credits to films and television shows that they deem "contrary to public policy," was dropped amidst declining support in the polls during the election.
Evangelical lobbyist, Charles McVety, originally claimed responsibility for the clause, indicating that that any films with gay content, such as the sweet family comedy, Breakfast With Scot, would be among those ineligible for tax credits.
While I'm happy that the clause has been turfed, I wouldn't doubt for a second that the Tories would introduce it again, or would have even turfed it if their poll support hadn't been slipping.
They just really don't want Slap Upside The Head: The Film to see the light of day!