New Brunswick Finally Recognizes Same-Sex Common Law Partners
December 1, 2008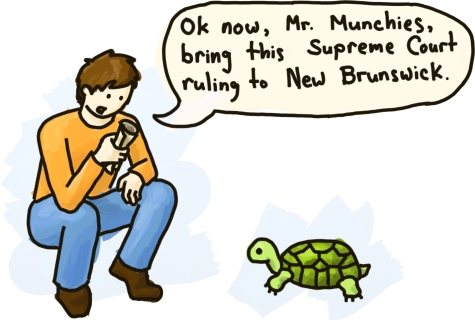 Nearly a decade after the Supreme Court of Canada ruled that same-sex common law partners must be given the same rights and priveleges as opposite-sex partners, New Brunswick has introduced a bill called the modernization of benefits and obligations act. If passed, the act will update more than 30 other acts and regulations to extend equal status to same-sex common law relationships.
While same-sex marriage has been legal in Canada for some time now, unmarried, same-sex, common-law partners are still, formally, on unequal ground compared to their heterosexual counterparts in New Brunswick.
Bizarrely enough, even though New Brunswick's bill is the result of a 1999 Supreme Court ruling, the provincial Conservatives have not indicated that they will support it. Conservative leader David Alward said that the hundred-page document is "very large" and they need time to review it carefully before committing to a "yes" vote.
You take your time there, David. Stuff like this only comes around once a decade.