Musical Pastor Penguins Marry Uruguanian Dogs
December 19, 2008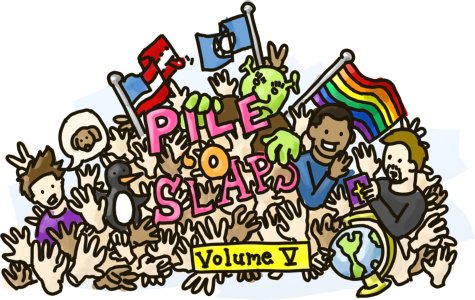 In my web travels, I often collect stories that I intend to share, but then become distracted by newer, shinier stories—or feel too lazy to illustrate them individually. This is what becomes of those stories: a Pile o' Slaps!
Montreal Simon has an excellent post about an anti-gay group that's campaigning to have a Pride flag removed from the lobby of St. Michael's hospital in Toronto. Now, removing the only symbol that indicates gay people won't be treated differently at the hospital might sound petty, but at least they're consistent and also support the removal of religious symbols from state build—oh, wait.
A gay penguin couple that had been expelled from a zoo in China for stealing heterosexual penguin's eggs has been allowed back after protests from zoo visitors. Zookeepers will give the penguins an egg from an inexperienced mother to try and curb the thefts. Religious penguins are furious, calling gay penguinism unnatural and against the teachings of the penguin bible.
Rufus Wainwright, the popular gay folksinger, is in hot water after an interview in which he advocated for equal marriage rights by saying "if you want to marry a dog, why don't you go ahead and marry a dog, I don't care." Well, that ought to convince the religious right to abandon their fight against equal marriage rights. Thanks, Rufus.
United States President-elect, Barack Obama, is being criticised by gay groups after selecting an anti-gay pastor to preside over his inauguration this January. It's not the greatest choice, granted, but I suppose you'd rather have the previous guy as president?
Reuters is announcing, for reasons I don't fully understand, that the recently-opened Shrek musical has a "gay pride element." And a religious right boycott will start in 3… 2…
Uruguay's senate has (snicker) supposedly paved the way for same-sex marriage after passing a (chortle) law that allows people to legally change their gender. Tee hee. U-ru-guay.
Finally, and surprisingly, the United States has refused to sign a UN declaration opposing the criminalization of homosexuality worldwide. Many U.S. officials had privately expressed concern that signing the declaration would contradict state laws that allow landlords and private employers to discriminate against gay people. Yeah, why oppose unjust laws abroad if it means facing them at home?
Well, that's it for today's Pile o' Slaps. Have a great weekend, kids!