Soup Ad Draws "Pro-Family" Ire
January 7, 2009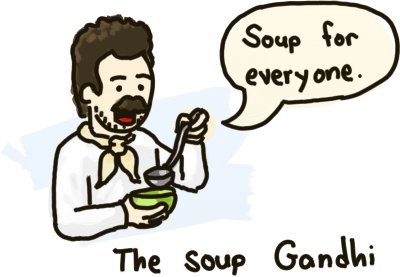 The anti-gay lobby group American Family Association is steaming—boiling in rich, silky broth—after Campbell's Soup placed an ad for Swanson's brand stock in The Advocate, a gay magazine.
The ad, which shows two real-life, lesbian café owners in New York serving soup to their son, prompted the AFA to launch a hysterical campaign against Campbell's. From the lobby group's press release:
Campbell Soup Company has openly begun helping homosexual activists push their agenda. Not only did the ads cost Campbell's a chunk of money, but they also sent a message that homosexual parents constitute a family and are worthy of support. They also gave their approval to the entire homosexual agenda.
The AFA goes on to urge their base to harass Campbell's with letters, phone calls, and emails, demanding the company stop "pushing the gay agenda" and to "remain neutral in the culture war."
Culture war. That's a phrase I hear from these guys a lot. I'm not sure anything of the sort exists in reality, but even if it did, wouldn't showing family types from all walks of life, including real-life gay parents, be precisely a neutral stance? I mean, neutral means either showing all types of families, or no types—including heterosexual ones. Deliberately banning portrayals of specific famliy types due to some frothy lobby group's boycott would be a decidedly non-neutral action, if you ask me.
But that's not how the AFA thinks, I guess. To them, simply showing a photo of gay parents serving soup amounts to "pushing the homosexual agenda."
So the next time you need to entertain some AFA members, I suggest serving a nice, hot bowl of Cambell's soup. And after a lovely lunch, don't feel ashamed to brag about your generous donation to the food bank this year.