"Safe Space" Programs Mean Just That
January 12, 2009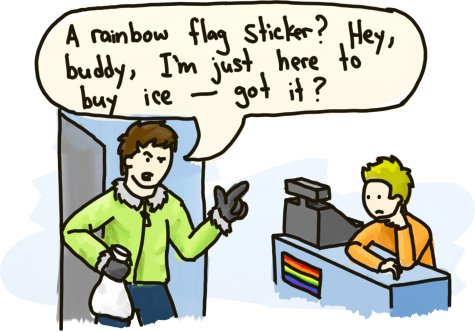 Before the holidays, I linked to an excellent blog post by Montréal Simon about St. Michael's Hospital in Toronto, and how anti-gay lobbyists had launched a campaign to tear down the rainbow Pride flag that is hung there.
Displaying the rainbow flag or a small rainbow flag sticker is something that many businesses and campuses across Canada choose to do—and many people probably can't imagine the relief that this gesture can bring to a gay person.
Having the rainbow flag sticker affixed to a storefront window or an office door signifies to gay people that we can let our guard down and know that we will be treated fairly. To me, it means I won't have a repeat of my experience at a walk-in clinic where, after answering questions about my sexual health and disclosing my orientation in the process, I was treated with a noticeable disrespect, ordered to have STD tests, and was put on antibiotics without any telltale symptoms—all for an upper leg / groin pain that ultimately turned out to be caused by a cheap, folding office chair.
On campuses across Canada, the rainbow sticker is known as the "positive space" or "safe space" program, and the University of Victoria is just the latest institution to consider it. It's an accurate title for an important program—and it's one that's under relentless attack by anti-gay groups and lobbyists.
In 2004, employees at the Royal Bank of Canada launched an employee-driven, non-mandatory, safe space program. It meant that if I needed to go into the bank as a couple for a loan, mortgage, joint account, or other service—I could seek out agents displaying the rainbow sticker and know that I'd be treated with the same respect as any other customer. Almost immediately, The Canadian Family Action Coalition launched a boycott against the Royal Bank, instructing members to close their RBC accounts and send angry letters and phone calls to the company. The bank panicked and caved, and all RBC employees were forbidden to display the rainbow sticker.
The pettiness, disingenuity, and hostility toward safe space programs and rainbow flags has been a sore spot for me for quite some time. Anti-gay groups call these programs an endorsement of the homosexual lifestyle—whatever that is—and have the audacity to claim that it's a discriminatory practise: That employees who don't wish to display the sticker would be treated with disrespect (a notion I reject). Yet these groups encourage hostility toward anyone who chooses to display it.
So, if you run a business, or work with customers in an office—consider a simple gesture to signify that you will treat everyone respectfully. Put a rainbow sticker somewhere visible. And if anyone objects, clarify that they are welcome too; that it's just a safe space.