Gay Magazine Found In Store Display Draws Complaint
January 16, 2009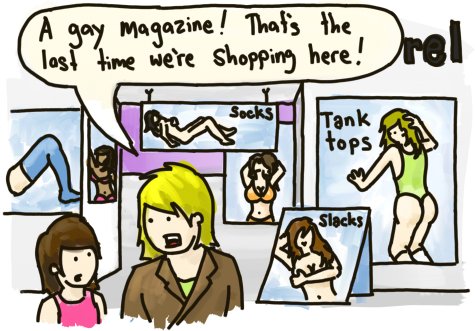 A Vancouver woman has complained to the press after discovering a gay magazine while rummaging through a display at American Apparel.
BUTT, a Netherlands-based magazine, was partially sticking out of a backpack in one of the store's displays when Trina Campbell decided to remove it and leaf through its contents:
I slammed the magazine closed and looked at my daughter in horror. She looked at me and said "What?" I said, "Did you see that?" She said "No."

I actually started crying.
The magazine, which is available for sale at all American Apparel stores, is not actually pornography; however, it does contain R-rated images, so the store requires proper ID to be shown in order to buy a copy from behind the counter.
Funny. Judging from American Apparel's all-Lycra stock, I was under the impression that they couldn't sell anything to minors. My mistake.
Anyway, I don't think it's particularly appropriate to have R-rated material stuffed in a display backpack, but then it's not particularly appropriate to rummage through store displays either. Since the magazine wasn't very accessible (all sale copies are stored behind the counter), I have a feeling that the complaint has more to do with the fact that a sexually-suggestive magazine was available at American Apparel in the first place. You know, the store where the outfits you buy and the credit card you use to buy them weigh about the same.