Anti-Gay Human Rights Complaint Is A Dud
March 20, 2009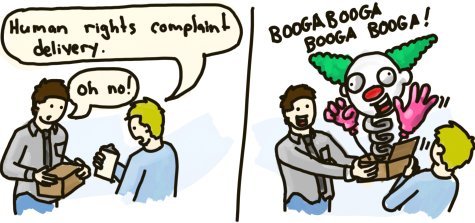 Kari Simpson, an anti-gay activist, has filed a complaint against the B.C. Education Ministry for not doing enough to help students who "suffer from homosexuality and other dysfunctional sexual orientations."
The bizarre complaint goes on to allege that schools simply aren't turning enough gay students straight. As Simpson puts it:
Sexual re-orientation therapies have helped thousands of individuals recover from such dysfunctional orientations. School counsellors are being denied the tools to be effective advocates for students in need of sexual re-orientation help and they should have access to resources and training that will equip them to properly counsel students.
Gee, that's just awful. Think of all those thousands of poor, suffering gays that were denied their right to re-orientation by that callous school board.
Odd, though, don't you think, that this human rights complaint had to be filed by a Christian activist instead of just one of those thousands of suffering students who were denied a gay cure. (Though, frankly, the only suffering I've ever endured as a gay person is from people like Kari.)
See, what Kari already knows—but chooses to ignore—is that all peer-reviewed research into reparative conversion therapy for gays has not only shown that it's completely ineffective, but that it's demonstrably harmful to one's well-being. That's why every respected medical and professional organisation has gone on record to condemn the very idea, including The American Psychological Association, The American Academy of Pediatrics, The American Medical Association, The American Counselling Association, The American Psychiatric Association, etc., etc., ad nauseam.
If I had to take a gander at it—which I don't, but it'll be fun—I'd say that Kari is filing the human rights complaint for two reasons. First, the Human Rights Commission has a history of protecting the rights of gays, and a small subset of religious activists feel it's at their expense. By launching a destined-to-fail complaint she is setting herself up for some kind of hilarious martyrdom for a tiny, but delightfully obsessed group of nuts, which she can then use to further criticize the commission. Second, she gets a venue in which she can repeat the myth that there's really no such thing as gay people to begin with: just straight people who need help escaping their sin.
Disingenuous compassion has been a failing strategy for these activists for years. This time won't be any different. It's just too bad that she has to waste valuable time from the people who have real human rights violations to report.