Homophobic Candidate's Behaviour Worse Than His Words
April 27, 2009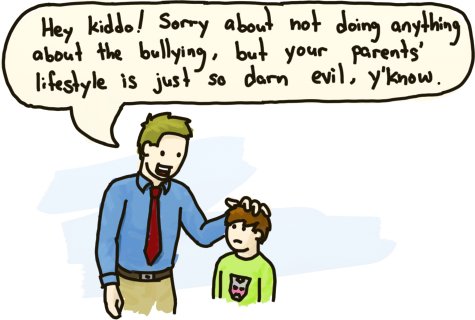 Marc Dalton, a candidate in the upcoming B.C. election, has drawn criticism over the surfacing of a homophobic email that he authored back in 1997. The email, which was sent while Dalton was an elementary school teacher, tiresomely equates gay people to adulterers and gamblers:
There are […] behaviours and acts that most of us would not condone: rape, robbery, assault, drunken driving, pedophilia, incest, and so on. There are other moral issues that large segments of our society do not see eye to eye: gambling, adultery, pornography. I believe that homosexuality fits in this category.
As is increasingly customary amidst elections, the email was revealed by a rival party, accompanied with a demand that Dalton resign for its content. NDP rival Spencer Herbert called the email's message "disturbing," adding "to say people like myself and other gay people are the same as pedophiles is an offensive remark."
In fairness to Dalton, I don't believe the email equates gay people to pedophiles, and frankly, the whole tone of the email seems like just another woefully misinformed repetition of religious morality talking-points. Still, Dalton, who is also a former pastor, has only provided a meaningless—even snarky—apology, saying "if Spencer Herbert or any other individuals have taken offence in their reading of this 12-year-old e-mail, I extend my unequivocal apology."
The email is old, but much like the Tom Lukiwski fiasco, I think the age of the offending comments is irrelevant. I also think that all this talk of the email content and when it was made is a distraction from the larger issue.
Dalton's email wasn't sent out of the blue; it was sent to a fellow teacher in response to an anti-bullying initiative brought up by the B.C. Teacher's Federation. The initiative was to protect children who were being bullied and harassed for having gay parents, or for being gay themselves. Not only did Dalton disagree with protecting students from this anti-gay harassment, but he actively started a counter-petition, circulating it among teachers, trying to get the anti-bullying initiative struck down. In Dalton's words:
There are many, many people who hold homosexuality to be an improper and high-risk behaviour. […] I am against the BCTF ram-rodding the homosexual motion against the wishes of great numbers of parents (and teachers) in this district and in this province.
This, the act of actively thwarting an initiative to protect children from bullying under the disingenuous guise of somehow protecting parental freedom to oppose homosexuality, is the true vulgarity here. This important character revelation has relevance to the current election, and its in this respect that I agree with Spencer Herbert. MLAs are required to represent everyone in their community, and Dalton, having shown that he is not up to the task, should quietly remove himself from candidacy.