Canada Heads Effort To "De-Gay" Figure Skating
May 13, 2009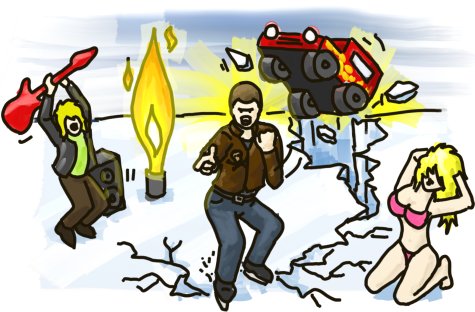 Skate Canada, the governing body for figure skating in Canada, is trying to re-imagine the sport in an attempt to increase spectatorship for Vancouver's 2010 Winter Olympics. Their approach: Get rid of the gay. (Or, to put it in their words, inject some "masculinity" to draw in the "hockey crowd.")
Elvis Stojko, the Canadian gold medal figure skating champion, is feeling rather smug about the suggestion, communicating a firm "I told you so" to Skate Canada:
Skate Canada is saying "we want to make men's figure skating more macho, we want to make it more masculine." And I'm like, "I told you guys that, like 15 years ago, and you guys hammered me for it." And now they're paying for it.

If you're very lyrical and you're really feminine and soft, well, that's not men's skating. That is not men's skating, OK? Men's skating is power, strength, masculinity, focus, clarity of movement, interpretation of music.
So, basically, femininity is bad. Men behaving artistically? Pfft! Leave that to the women. For men, it's gotta be more like hockey! Where's the tripping? The fights? The shattered teeth shards sliding across drops of frozen blood?
Oh! They should totally add some explosions. Kaboom! And maybe have everyone come out in teams and blast paintball cannons at each other. The first to triple salchow over their injured, bloodied competitor wins—then BAM! Medicine ball to the back of the neck!
Skate Canada can practically taste the ratings now…
And all they had to do is give everyone who's secure and respectful enough to appreciate the beauty and art of figure skating—regardless of the athlete's gender—a massive slap in the face.