It's The Penguin Agenda!
June 8, 2009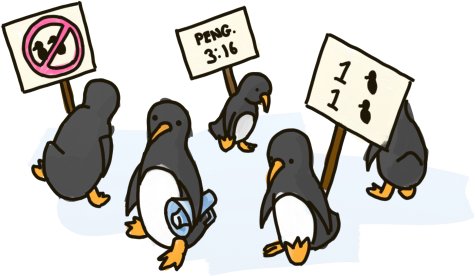 Z and Vielpunkt, two male Humboldt penguins in Germany's Bremerhaven zoo, do not like to mate with the female penguins. They, instead, have paired off together. So when a heterosexual penguin couple rejected one of their own eggs, the zookeepers decided to leave it in the care of the gay penguins.
The two fathers took turns incubating the egg until it hatched into a chick. They continue to care for the baby penguin, taking turns to feed it and nurture it.
Penguin church officials immediately condemned both the couple and the zookeepers for their affront to the natural penguin order. Additionally, Pengod-fearing members of the penguin community are seeking a pengstitutional amendment to overturn the development.
Germany is just one of the several countries to recently allow same-sex penguins in their zoos.