Meet The Anti-Gay Lobby: Brian Rushfeldt
June 15, 2009
Who'd have thought one could make an entire career out of being scared of change and gay people? In Part I of a new series of slaptacular mini-bios, we take a look at the very special, terrified folk who are lobbying against your rights.
Name: Brian Rushfeldt
Gayified Name: Bri
Works For: Canada Family Action Coalition
Favourite Colour: Whichever ones aren't in the Pride Flag.
Actual quote:"It's interesting that they would have chosen Alberta to film [Brokeback Mountain] in. I think that was a deliberate move on the part of some of the homosexual activists and some of the directors from corrupt, immoral Hollywood."
[caption id="attachment_2534" align="alignright" width="200" caption="Brian Rushfeldt reacts to a Pride flag fluttering in the breeze."]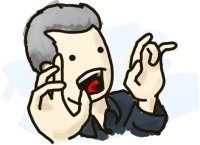 [/caption]
What he does: Rushfeldt is a former Bible college dean and air traffic controller. He's now the executive director of the Canada Family Action Coalition, which has lobbied against (among other things) same-sex marriage, tax credits for gay-themed films, and the adding of sexual orientation to the list of minorities protected by hate crimes. Brian was instrumental in legislation that forces teachers to require parental permission before acknowledging the existence of gay marriage in classrooms.
Craziest Moment: Brian led a boycott of the NHL for licensing the Toronto Maple Leafs logo for use in the film Breakfast with Scot, an adorable family comedy that features a gay hockey player and his partner who becomes the unexpected guardian of an 11-year old orphan. "The most disturbing aspect," Brian said of the film "is that an 11-year old boy is being promoted as a poster child for gay sex." The boycott of Canada's national pastime wasn't very popular.
Party invitation index: A neutral 5. While not an intentionally interesting guest addition, Brian's air traffic controller skills would not only come in handy helping your other guests manoeuvre into tight parking spaces, but also likely make him an excellent charades partner.