Edmonton's First Tory Pride Participant Mocks Event
June 24, 2009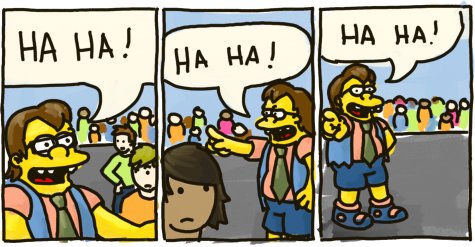 When Edmonton's Pride Parade organisers invited Conservative MLA Doug Elniski to join in the festivities last week and be among the first-ever Tory participants, they probably hadn't guessed he'd be Twittering and posting to his conservative blog at the same time. While waving to the crowd alongside three of his colleagues, Elniski proceeded to mock the event and its participants in real-time on his public Twitter account. Class act, that Doug!
While the controversial tweets have since been scrubbed clean and his entire blog has been deleted altogether (it hasn't escaped Google's cached copy, mind you), here are just a few of his observations:
i am surrounded by bumping and grinding lesbians waiit 20 then send help

i am certian that one is real those however i doubt

Darkest humor was either "Dyke's on Bikes" or "Queers for Beers" the latter was a particular irony as most of the people in the beer garden were drinking pink coolers

I am SOOOOOOOOOOOO glad it did not rain, had it rained there would have been so much mascara, glitter and cake makeup on the roads we'd have needed one of those sweepers that follow the horses in the Capital Ex parade.

It was 'just' a parade, relax
It's kind of a nice gesture simply joining the parade in the first place, but it's disappointing for an invited participant to not acknowledge the meaning behind Pride parades. Contrary to what Doug wrote, it's not "just a parade," but also a celebration and protest in commemoration of a minority's struggle. While I can't blame Doug for revelling in the spectacle of some of the more flashy groups, I don't think he cares much for the underlying purpose. An even more recent blog post of his directed toward young women has gotten some bad press, and reveals that he's, sadly, pretty much just a creep:
Men are attracted to smiles, so smile and don't give me that "treated equal" stuff, if you want equal it comes in little packages at Starbucks.
Yeah, who needs equality when we've got aspartame?
(Thanks to Tamara for sending this story along!)