Conservatives Deny GLBT Festival Funding
July 27, 2009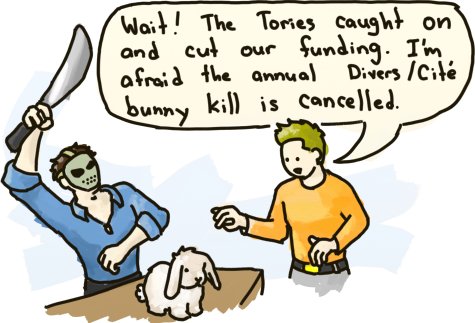 Divers/Cité, Montréal's annual GLBT arts and culture festival has been denied all federal funding, despite meeting the necessary requirements. The news came just days before the festival was to begin, and just weeks after the Conservative cultural minister, Diane Ablonczy, was removed from her duties for allocating $400,000 for Toronto's Pride Week celebrations.
Like the fallout from Toronto's Pride Week's funding decision, the ideological underpinnings of this decision are pretty freakin' obvious, and perhaps even stronger. While it could be weakly argued that Toronto's Pride Week was a political event, and not a cultural event eligible for funding, this can not be said of Divers/Cité. There are no parades, no rallies, and no campaigning. (These take place mid-August during Montréal's separate Gay Pride festival, Célébrations de la Fierté.) Divers/Cité consists, instead, of outdoor concerts, film screenings, photo and art exhibitions, and other select cultural events. Only the most uptight would find any of the events objectionable.
The festival is one of Montréal's largest, drawing millions of tourism dollars and hundreds of thousands of participants. The festival is also the first applicant meeting all the requirements for funding to be denied. This is particularly relevant as the $155,000 price tag would have been a pittance next to the $2 million spent for Calgary's Stampede, $6 million spent for the Just for Laughs and Montréal Jazz festivals, and $1.4 million for the French music festival, FrancoFolies. The money comes out of $100 million that has already been allocated for just these sorts of festivals in Canada.
Seems like there's some new funding requirements in place, and they're pretty straightforward. Anything supportive of the GLBT population and culture is ineligible. And if funding accidentally gets allocated for gay cultural events, there are consequences and measures to make sure it doesn't happen again.
Those Tories!
(Thanks to Slap readers John and Jim, who alerted me to the story during my birthday hiatus!)