Lesbian Couple Denied Transit Family Fare
August 19, 2009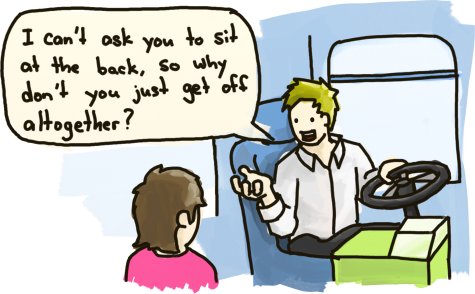 A Lesbian couple in Vancouver is complaining to the media after a bus driver told them the city's Sunday family special didn't apply to lesbian couples.
Vancouver public transit allows up to two adults and four children to board a bus using a single FareCard, but when Ashlee Gowriluk and her girlfriend tried this, they say they were told this only applied to opposite-sex couples. Even when Gowriluk called the transit authority with her cell phone confirming that the Sunday special applies to any two adults, the bus driver refused to acknowledge the policy, instead driving off announcing that he would never stop for them again.
A spokesperson for Coast Mountain Bus Company, the operator of public transit in Vancouver, said the company is investigating the incident. Not being happy with a mere investigation, Slap Upside The Head is starting a petition demanding that all drivers be replaced with adorable, bus-driving robots.