Tornado Punishment For Same-Sex Blessings: Preacher
August 24, 2009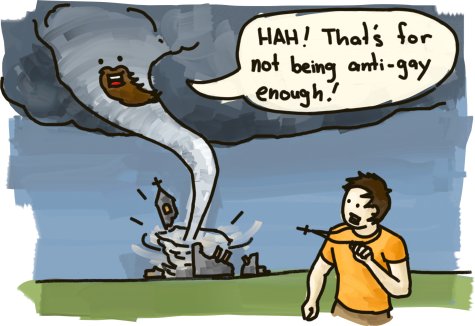 Looks like there's even more evidence that us gays control the weather! A Minnesota pastor has announced that a tornado which terrorized Minneapolis last week is the direct consequence of an effort to allow the Evangelical Lutheran Church in America to bless celibate, gay couples who vow to remain "chaste, monogamous, and lifelong."
Pastor John Piper said that city's downtown Lutheran church had its steeple damaged because "Jesus Christ controls the wind, including all tornadoes," emphasizing that all destruction was a sign that the church needs to "turn from the promotion of behaviours that lead to destruction.
The church was amidst discussions to possibly bless and acknowledge gay parishioners, so long as they do nothing to express each other's love physically. The measure passed on Thursday with exactly the two-thirds majority required, and not one vote more.
Now, you all better stay on my good side or—so help me—I'll summon some moderately strong winds to topple over your patio furniture. Mark my words, you will be inconvenienced!