Urban Art Project Turns Into Homophobic Mess
September 9, 2009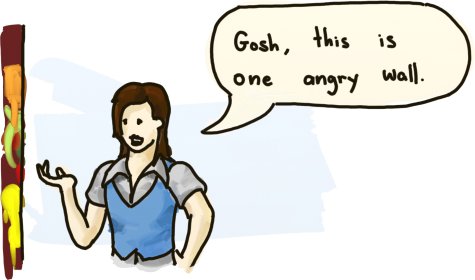 An attempt to designate a section of a Calgary skate park as a legal spraypainting zone backfired last month, in what one alderman has called "a barrage of visual diarrhea."
I love street art, but from the sounds of this CBC article, the work of these budding young artists wasn't exactly gallery-worthy:
[Alderman John Mar] said it appears "mayhem ensued," and people descended on the park with spray paint, covering every surface with tags, profanity and homophobic and anti-police statements, including urinals in the men's washroom.

"We can't have anti-homosexual slogans. We can't have profanity. What we have done now is taken the park back for the citizens of Calgary and the youth that want to use it in a clean and friendly matter."
Yikes! Not exactly a raging success, was it? At least the city has the good sense to correct it. After a quick order, city workers are reportedly busy scrubbing all the homophobic slogans off the Landmark building, keeping that sort of sentiment squarely in the mouths of politicians, media commentators, and church officials—you know, where it has always been.