Megachurch Bans Pepsi Over Homosexuality
September 21, 2009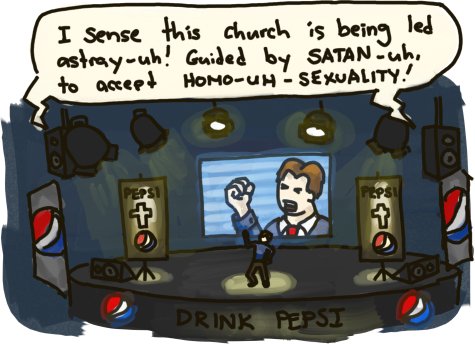 A megachurch in Brandon, Florida has removed all of their Pepsi vending machines (ten in total) and replaced them with Coca-Cola machines because they say Pepsi has been "advocating for the normalization of homosexual behaviour in our culture."
A spokesperson for the church, Terry Kemple, explained that companies like Pepsi are just going hog-wild with all sorts of crazy shenanigans:
These companies were doing anti-family things like distributing pornography and advocating special rights based on a person's choice of sexual partners. We fight this battle one skirmish at a time. Our forefathers came here for religious liberty, not sexual liberty.
Jenny Schlavone, the Director of Communications for Pepsi, said that the church was actually just referring to small grants made "in direct support of safety and respect in the workplace," basically anti-discrimination programs to ensure that gay people aren't fired and mistreated just for being gay. (Although I imagine she went right back to distributing corporate-branded pornography to preschoolers after the interview. Those crazy companies!)
Coca-Cola, incidentally, also supports equality for gay employees. But then again, churches can't stop selling both major manufacturers of soda beverages! I mean, what would Jesus think?