Mr. Sub Fires Marketing Firm Over Negative Gay Ad
October 9, 2009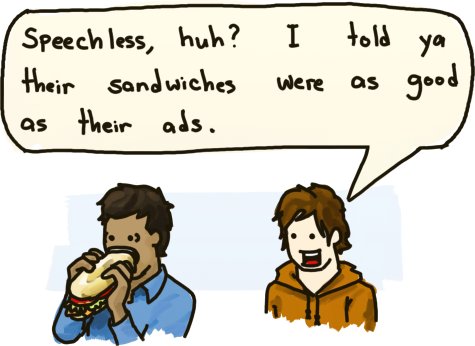 Mr. Sub, a moderately popular sandwich chain in Canada, has gotten themselves into a tangy, sliced pickle over one of their new television spots. The ad was one of three to be aired over the next year, and I can't help but wonder what it would have been like to be sitting around the boardroom table during the pitch…
OK, I've got this great idea for your new ad. Picture this. An entire family is sitting around the dinner table about to eat, when the father taps his glass with a spoon. "I have an announcement," he declares softly, with a smile. "I'm gay!" We cut to a shot of the family staring agape in shock, before his daughter asks disapprovingly, "You mean gay gay?" The father responds "Like, super, super gay!" Then we end with our new tagline: " Not everyone likes surprises, so count on Mr. Sub!"
Gosh, what a laugh riot! What will they think of next? "Mom, dad: I'm marrying outside my race!"
"Not everyone likes surprises!"
Ah ha ha, brilliant!
Mr. Sub has since fired their advertising agency, BOS Advertising, over the spot (which is, of course, available on YouTube), despite having approved the ad themselves. A representative for BOS expressed their disappointment, but offered no acknowledgement that the ad could be seen as tasteless, instead lamenting "it is most unfortunate that others have interpreted this commercial [that way]."
Strangely, they even tried to paint the ad as a social catalyst for gay rights:
We stand behind our work. We hope that the debate and controversy that looms over this ad will bring about positive change and a greater tolerance and understanding of a person's sexual preference.
Boy, that's an even worse sales pitch than the actual ad. Particularly since they just declared that being gay is a "preference." BOS is so clueless, that if a gay organisation ever hired them, they'd probably prepare another sandwich ad. ("Try our new, mouthwatering GLBT, made fresh to order!")
All that said, the ad doesn't particularly offend me as a gay person. Still, I'm happy BOS was sacked. Any decision that spares me from suffering through more terrible advertisements is a good decision in my books.
And with that, have a tasty long weekend, kids!