Lobby Group Angrily Demands "Grandma" Ad Pulled
October 14, 2009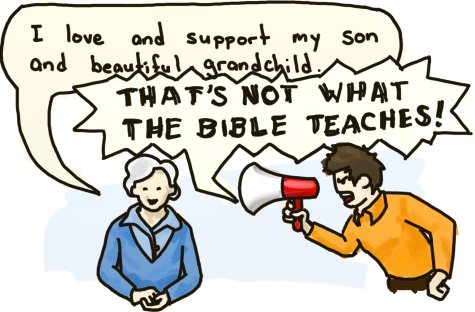 Catholic Vote Action, a religious political group based in Chicago, is demanding that an ad supporting equal marriage rights in the state of Maine be pulled off the air.
The ad, which features a real family including a Catholic grandmother who supports her gay son and his adopted child, was produced by Protect Maine Equality in response to an upcoming ballot initiative that would take away the existing right of gay couples to marry in the state. "I've been a Catholic all my life," the grandmother says in the ad, "my faith means a lot to me." She continues, "Marriage to me is a great institution that works, and it's what I want for my children too."
Essentially, it's a real-life example of how it's possible to harmonize one's faith and family, supporting the loving relationships in which families can flourish.
Unacceptable, of course, according to Catholic Vote Action, who released a press release on Monday declaring that all Catholics do not support "counterfeit marriages" and demanding that the ad be pulled immediately. Because, as we all know, loving and supporting your family throughout hardships and mean-spirited attacks just isn't a value worth keeping.
But back in the land of reality, for all my stateside friends who have a say in the matter, remember to support equality and vote NO on Maine's Question 1!
Update: Slap reader Alan points out that you don't need to live in Maine to help out with the No On 1 cause. With only a couple of weeks before the ballot, and with polls showing a statistical tie in opinion, now is exactly the time when volunteers and donations are needed the most! Visit ProtectMaineEquality.org and volunteer to phonebank from home or donate for more ad airtime.
An extended hat tip goes to Jim Burroway over at Box Turtle Bulletin for the story.