Scholastic Censors Book Over Lesbian Moms
November 4, 2009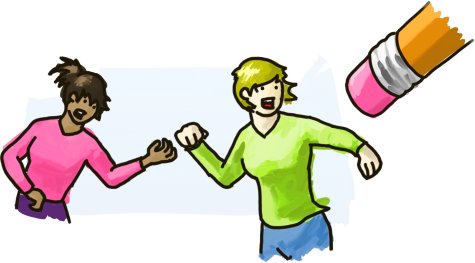 _Luv Ya Bunche_s, a short novel for ages nine to twelve, has been pulled from U.S. book fairs by the Scholastic publishing company because one of the book's characters, Milla, has two mommies.
The novel, published by Scholastic and written by Lauren Myracle, is about four school girls who form lasting friendships despite not having much in common other than all being named after flowers.
Shortly before the book's release on October 1st, Scholastic sent a letter to the author asking her to remove several offensive words (specifically "geez," "crap," "sucks," and "oh my God") and to change Milla's parents to be straight—or be banned from the publishing company's book fairs. (Oh my God, that sort of crap sucks. I mean, geez!)
The author, speaking to a literary news site, had this to say:
The other issues, words like "crap," just made me shake my head and laugh. But the idea that two moms could be problematic… well, astonished would be the best way to describe my reaction.
Myracle agreed to clean up the filthy, filthy language by changing "crap" to "junk" and so forth, but absolutely refused to ungayify Milla's parents. As a result, Scholastic's book fairs division banned the book outright, budging only a tad after gaining some negative press. So, while they continue to refuse to include the novel in book fairs targeted toward the book's intended readers, they will permit it to appear at middle-school book fairs where the readers are too old to hold any interest in the novel. (Scholastic's Canadian division, notably, never had a problem with the book and features it both in their book club and book fairs division.)
Still, it's a good thing that Scholastic isn't in charge of publishing this blog, or they'd probably blacklist me for even thinking to utter the following scathing and profane invective:
Jeepers golly gosh, Scholastic! What gives?