Gay Tourists Not Welcome At Vatican: Bishop
November 16, 2009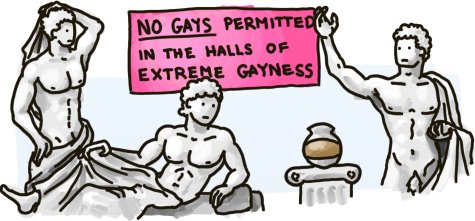 Gays are not welcome at the Vatican—not even to visit. At least, that's the word according to Bishop Janusz Kaleta, who spoke to the media at last month's Assembly of United Nations World Tourism Organization.
Speaking to a reporter who clarified that gay tourists are travelling for personal visits and admiration, not political demonstrations, Bishop Kaleta had this to say:
I consider if someone is homosexual, it is a provocation and an abuse of this place. Try to go to a mosque if you are not Muslim. It is abuse of our buildings and our religion because the church interprets our religion that is not ethical. […] If you have different ideas, go to a different location.
I already visited the Vatican in 2003, and I might go back. (So there.) My strongest impression, next to the sheer extravagance of its palaces, was that the Vatican was the gayest place I have ever been in my life. And that's no surprise; the Vatican's most famous architect, Michelangelo, is well documented to have been gay. I guess this means his type just isn't welcome any more. Oh, well. That place is probably reaching its threshold in homoerotic artwork anyway. I mean, overdoing it is just tacky, right?
(Hat tip goes to Bruce at Canuck Attitude for alerting me to the story.)