Pope Calls Gays A Threat To All Creation
January 13, 2010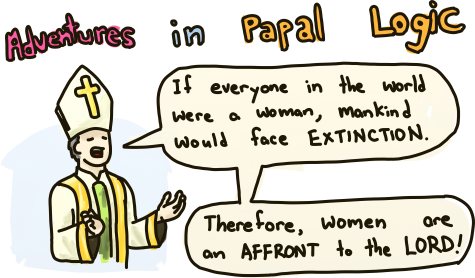 Pope Benedict, speaking to several diplomats in Vatican City last week, called gay men and women—and the laws that protect their human rights—a threat to no less than all of humankind.
"Creatures differ from one another," he began, "and can be protected or endangered in different ways, as we know from daily experience. One such attack comes from laws or proposals which, in the name of fighting discrimination, strike at the biological basis of the difference between sexes. I am thinking," he continued, "of certain countries in Europe or North and South America."
Ooh, a guessing game! Which countries and laws could he be referring to, I wonder…
OK, the pope's argument isn't well veiled. It's also a tired one. It basically says that since gay couples can't biologically reproduce with each other, enough gay people will spell the death of all humankind. Except that, you know, it wouldn't.
I'm not sure what species the pope thinks gay people are, but even if all future generations, by an astronomical coincidence, were born gay, their reproductive bits would still function perfectly well. Gay men, for example, can and do donate their swimmy things to lesbian women, making the most adorable little people in the process. And everyone involved in the process is gay. Neat, huh?
It's a bit of a hassle, mind you, and I suppose it's for that reason that we can be at least a little bit thankful that we gay people aren't even close to, or anywhere near likely to become, the majority of humankind. So maybe the pope could focus a little more on some of the real threats to humanity, like, oh… say, nuclear weapons, genocide, etcetera, etcetera.