Pope Condemns British Equality Legislation
February 3, 2010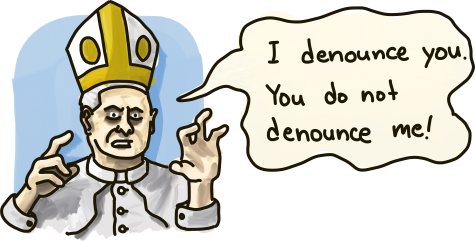 Pope Benedict XVI issued a strong condemnation against Britain on Monday for enacting legislation protecting gays from workplace and housing discrimination.
After a confirmation that he would be visiting Britain later this year (the first such visit in 28 years), Benedict XVI seemed to imply that he wasn't terrifically happy about it, announcing that the country's equality laws had imposed "unjust limitations on the freedom of religious communities to act in accordance with their beliefs."
Religions, incidentally, are exempt from Britain's anti-discrimination legislation, granting Churches the ability to fire gay employees, or pass them over for promotion with impunity.
But this is an argument I hear time and time again—the idea that gay people are actually the intolerant ones, and equality legislation is all basically an attempt to limit religious freedom.
I'm not sure why it can't go without saying, but that argument is dumb. Really, super dumb. The premise is essentially that tolerance means tolerating intolerance. We gay people, they imply, should submit ourselves to being treated as inferior, turn an accepting cheek to lobbying efforts to have us fired from our jobs, evicted from our homes, denied the equal right to civil marriage, and worse. Otherwise, it follows, we gays are restricting religious freedoms.
If there were gay lobby groups seeking constitutional amendments to ban religious marriage, attempting to gain the right to fire and evict religious people from their jobs, or seeking to deny religious people civil services, well, then these kooks can speak of intolerant gays trying to limit religious freedoms, but until then—they can apply their own standards of freedom and see who's intolerant of whom.