Homophobic Pastor Shows Gay Porn In Church
February 22, 2010
Martin Ssempa, a pastor in Uganda's capital city of Kampala, is showing gay porn as part of his church sermons.
Ssempa began showing the sexually explicit videos, which he downloaded from the Internet, in an effort to sway his parishioners in support of a terrifying anti-gay bill currently before the Ugandan legislature. When interviewed about it, he said he's showing the films—and will continue to do so—in order to "educate churchgoers on gay sex."
Well, that's all kinds of crazy. I mean, can you imagine if homophobes like Ssempa treated straight people the same way they treat gays?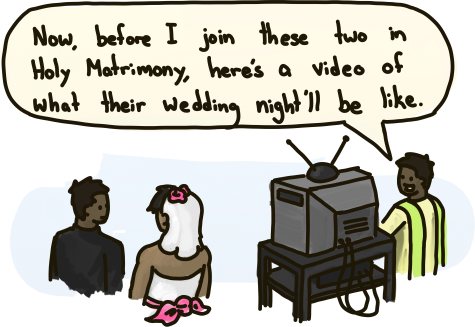 Still, as unbelievable as it sounds, it has come to this: Gay porn in church. And, naturally, it's the anti-gay people that have done it. The method is entertaining (I joked on Twitter that Ssempa's sermon would have kept me in the pews), but the thinking behind it is really tired. In retrospect, I shouldn't even be surprised.
People involved in anti-gay campaigning are obsessed with gay sex in ways that no one else is, and quite strategically so; human sexuality falls under special moral scrutiny, making it an effective platform for criticism. When speaking of heterosexual relationships, these people have no problem glossing over the intimate sexual details of the partnership in order to convey a larger meaning: Love, commitment, support, unity—all the qualities that make unions special. But when it comes to the subject of gay relationships, they turn to hysterics, engrossed in their own imaginations over what could be going on in the bedrooms.
Sexual attraction is what biologically orients us toward partners, and it works for straight people in exactly the same capacity as gay ones. This means that, when speaking of relationships, kooks like Ssempa must either gloss over the sexual details for everyone in exactly same way, or act all aghast in about them in exactly the same way.
Well… Unless, of course, they expect that all straight couples have had sex precisely as many times as they have children. But then they're crazy for an entirely different reason.
Thanks to Slap reader Tom for alerting me to this incredible story.