Right On Schedule: Olympic Commentators Make Anti-Gay Figure Skating Jokes
February 24, 2010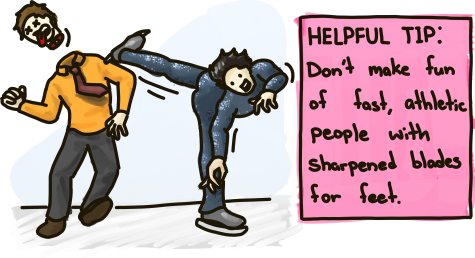 Claude Mailhot and Alain Goldberg, two commentators for RDS, Canada's French-language sports network, have issued a public apology over homophobic comments made during the men's figure skating competition at the 2010 Vancouver Winter Olympics. The comments were made in reference to a performance by three-time United States figure skating champion, Johnny Weir, and came just after two Australian commentators landed in hot water for similar, but tamer comments about the same athlete.
"This may not be politically correct," Mailhot began in French, "but do you think he lost points due to his costume and his body language?" Goldberg agreed, saying that Weir's performance reflected badly on male figure skating: "They'll think all boys who skate will end up like him. It sets a bad example."
"We should make him pass a gender test at this point," continued Goldberg, with Mailhot joking that Weir "should compete with the women."
Franchement!
It's kind of like clockwork, mind you. Male figure skaters are often criticized for being perceived as too feminine, and it's a form of misogyny that's getting pretty tired. It'd probably take a decorated figure skater to cure such a lack of creativity.
Weir is as much an artist as an althlete. If you ask me, the only "bad example" here is the suggestion that some forms of art should be dismissed instantly due to the gender of the performer.
Honte à vous deux, Claude et Alain.