Catholic School Boots Preschooler For Having Gay Parents
March 8, 2010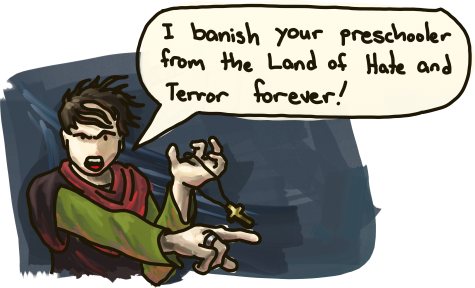 Sacred Heart of Jesus, a Catholic school in Boulder, Colorado, has kicked out a student after a year of preschool for having lesbian parents.
While an anonymous staffer revealed that the school itself is furious with the decision, the archdiocese is quite content with themselves. In an official statement, they said that booting the child from classes was simply a board-wide policy: "No person shall be admitted as a student in any Catholic school unless that person and his/her parent(s) subscribe to the school's philosophy."
Punishing children with expulsion because of the sexual orientation of the parents may be malicious, uncaring, and very un-Jesus-like, but, hey, that's Catholic schools for you. As a private institutions they're likely well within their right to behave as unethically as they like.
Not a very good place to send a child, come to think of it.
I managed to survive my entire gradeschool education in the Catholic system, but it wasn't pretty. Who knew that escaping that awful institution could have been so easy? If only I pretended my parents were gay!