Virginia Forcing Colleges To End Gay Protections
March 10, 2010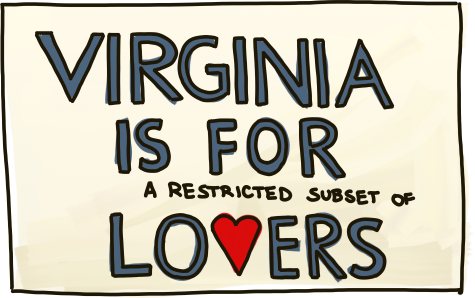 Ken Cuccinelli II, the Attorney General for the U.S. state of Virginia has formally warned all of the state's colleges and universities that they must rescind their non-discrimination policies for gays, or face legal consequences.
Well, that's all kinds of crazy. Surely "non-discrimination policies" is a really just some coded phrase to camouflage what might actually be a more reasonable request, right? Let's look at Cuccinelli's letter:
It is my advice that the law and public policy of the Commonwealth of Virginia prohibit a college or university from including "sexual orientation," "gender identity," "gender expression," or like classification as a protected class within its non-discrimination policy absent specific authorization from the General Assembly.
Oh dear.
Yes, it appears that treating everyone equally, regardless of their sexual orientation, is illegal in Virginia. Discrimination with respect to employment and college admission is the letter of the law and, by golly, Cuccinelli is going to enforce it.
The state's top universities—all of which have such non-discrimination policies—are reacting nervously, declining any official comments. Students, on the other hand, are having no trouble speaking their mind. Even though it's in the middle of spring break, a Facebook group in support of equal treatment has already popped up with nearly 5,000 members.
Say, Cuccinelli does realize that being straight is a sexual orientation too, right? Hey, maybe this means I could start a gay-only faculty, offering degrees in fabulousness!
Special thanks to Slap reader Chase for alerting me to this craziness!