Homophobic Politician Outed At Toronto Pride
March 26, 2010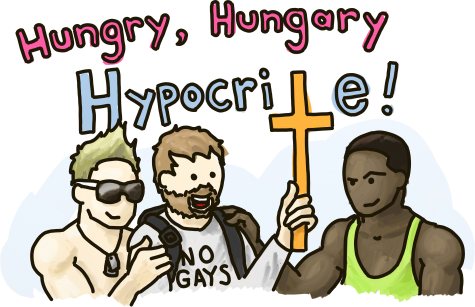 If you're a politician belonging to Hungary's most radical right-wing political party, you might want to leave your camera at home the next time you go vacationing in Canada.
András Király, a member of Jobbik, the religiously-based political party defining itself as the "movement for a better Hungary," took some time in 2008 to visit Toronto during the city's Pride Week. The young politician, whose platform is set firmly against gay rights, gypsies, and immigrants, also decided to document his stay with a digital camera.
The photos, as if we should all be surprised, have now surfaced in multiple, French-language and Hungarian media outlets this week. Each documents a smiling (and I mean smiling) Király, posing flirtatiously with several hot, Torontonian, gay men, as well as a topless transgender woman. Additional photos also show him smoking pot, and (apparently) inhaling it second-hand from the mouth of another guy.
Király claims that his participation in Toronto's Pride week was all part of his own "research," but Jobbik mustn't feel particularly pleased with the findings. Király's page vanished without a trace from the party's official website.
Don't worry, Jobbik; since you seem to be low on web resources, I'll happily document your candidate's research on this site!
Special thanks to Slap reader Matt for alerting me to this story.