And Society Still Stands
April 9, 2010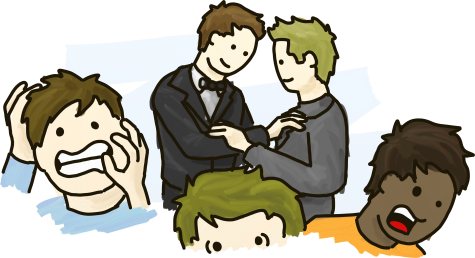 Let's end the week on some sweet notes, why not?
British Columbia's legislature will have a new name to remember after an NDP MLA married his longtime partner last month. Spencer Herbert will now be known as Spencer Chandra Herbert, making him Canada's first MLA to take his gay partner's last name. The Vancouver-West MLA has already updated his website with the change, and hopes that other legislative sources will soon follow. The change won't take too much effort, mind you; during house proceedings, MLAs are always referred to by their constituency.
On the other side of the ocean, Slap reader Melanie has written in with some good news about a British soldier in Prince Harry's regiment. Lance Corporal James Wharton from the Blues and Royals has married his boyfriend, Thom McCaffrey. James wore military regalia to help formalize the wedding, which was held at the regiment's Knightsbridge barracks. It was the first same-sex wedding for any member of the Household Cavalry.
Of course, after these two weddings, I'll keep an eye out for news on whether or not society will continue. Until then, have a great weekend!