Still Think Pray-Away-The-Gay Works, George Rekers?
May 5, 2010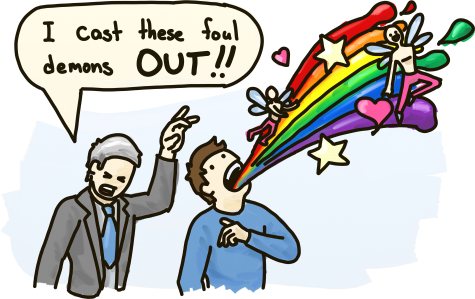 The idea that homosexuality can be eliminated through prayer is about as old as it is wrong. I like to think that there aren't many people who still believe it, but just this week a member of the UK's large Conservative party declared, on record, that homosexuality is "the work of demons," and can be cured through "the power of prayer."
You know who else thinks that gays can be turned straight? George Rekers, one of the United State's most prominent anti-gay activists. He, along with his good friend, James Dobson, founded the Family Research Council, a large anti-gay organization whose initiatives have caused incalculable suffering. He actively sought to end all legal protections for gay citizens ranging from marriage rights and adoption rights to simple protection from hate crimes. He also encourages parents to send their young teens to discredited and harmful rehabilitation camps so they can be "cured" of homosexuality.
Now, this has happened enough times that you can probably just assume where this is going, but guess who was caught hiring a young, male prostitute from one of the web's most prominent gay escort sites to accompany him on a European vacation? (Here's a hint: it's George Rekers.)
Rekers, who was photographed with his rent boy at the airport, claims he simply hired the sex worker to help him carry his luggage. I guess he probably wouldn't have been satisfied with the complimentary help that most airports provide. Plus, luggage carrying usually requires the sort of "smooth, sweet, tight ass" that Reker's luggage-carrier advertised on his gay escort website. (You know, the gay escort site where Reker found him… to carry luggage.)
If you want to hear from Rekers himself on the topic of everything gay, be sure to check out his booklet, "Prevention of Homosexuality," which can be picked up at any of the pray-away-the-gay seminars hosted by Exodus International. (Also available in Portuguese! A Prevenção da Homossexualidade.)
(Hat tip to Wayne Besen over at Truth Wins Out for the story.)