Tories Cut Pride Funding
May 10, 2010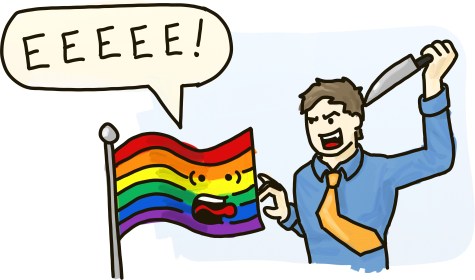 Pride Toronto has been denied any funding this year from the federal government. The festival, which had previously been supported with federal tourism programs, brought in an estimated $100 million in tourism dollars last year, most of which was subject to GST/PST.
This denial of funds is not much of a surprise considering the Conservative's attack on gay festivals last year. Diane Ablonsky was removed from her position immediately after announcing that she had allocated $400,000 to Pride Toronto to help make the festival events more accessible to people with disabilities. Immediately after, the Tories cut funding to Montréal's Divers/Cité festival and the Black and Blue festival.
Don't think that these cuts were across the board, mind you. The federal government has still allocated $100,000,000 over two years to support tourism in Canada. Industry Minister Tony Clement touted the program as representing "every corner of Canada," but I guess gays aren't in one of those corners, since not a single gay cultural event is represented.
Here are a few of the things that are:
Burlington's Ribfest will get $98,610
The Gatineau balloon festival will be receiving $170,000
The Ontario Plowmen's Association will receive $255,460
The Norfolk Horse Show will get $171,000
Old Home Week will receive $134,888
And let's not forget the Calgary Stampede, which will receive $1,001,625. That's only $80,000 less than the second balloon festival being given federal funds this year, the Saint-Jean-sur-Richeliu balloon festival, at $1,082,100.
Well, I sure hope some of those balloons are rainbow-coloured, because that's about as gay as it's going to get this year.