Senator Moves To Disallow Gay Families From Campsites
May 12, 2010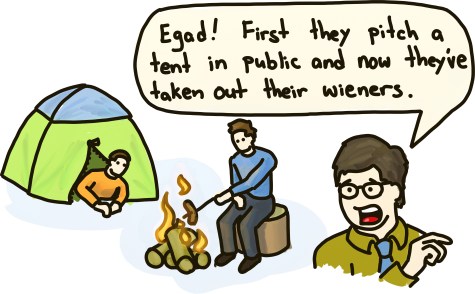 A Republican senator from Iowa is severely irked over the idea that gay couples should be allowed alongside heterosexual families on state campsites.
Lawmakers in Iowa have proposed updating the books so that gay couples will qualify for a family permit when camping. This would allow gay families to set up two tents on the same site so children and other state-defined dependents can join in on the weenie and marshmallow roasts. This, of course, sent state Republican Merlin Bartz into fits.
"A lot of the advocates of gay marriage in Iowa has said 'It doesn't affect anything; nothing has changed'," Bartz told the press, "but the reality of it is that everything is changing."
And, gosh, what a change this is. Gay parents are bringing their families to camp sites! That's one of the signs of Armageddon, isn't it?
(Thanks to Slap reader Kevin for alerting me to this one!)