CIA Almost Produced Fake Saddam Gay Sex Tape
May 28, 2010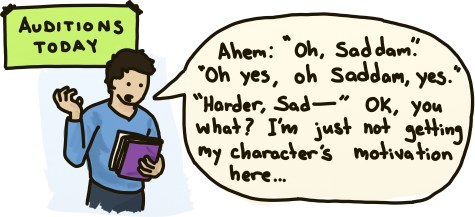 The United State's Central Intelligence Agency's Iraq Operations Group had proposed creating and circulating a fake gay sex tape depicting Saddam Hussein with a teenage boy. The idea was that Iraqis would be so shocked with the grainy camera footage that the entire Saddam regime would become destabilized and easier to invade.
Thankfully—very, very thankfully—higher authorities at the CIA rejected the idea before it was put into action. A CIA operative, speaking on the condition of anonymity dismissed the plan as having "no resonance in the Middle East." "Nobody cares," he said. "Trying to mount such a campaign would show a total misunderstanding of the target. We always mistake our own taboos as universal when, in fact, they are just our taboos."
Interesting perspective, but with all due respect to this CIA guy, I think having sex with Saddam Freakin' Hussein was taboo pretty much everywhere.