Good News / Bad News
July 9, 2010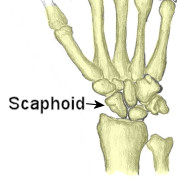 Well, the good news is that I learned about a new bone today. The bad news is that I fractured it, may need reconstructive surgery, and will be in an arm cast for my wedding.
So, yeah, I think I'll forego my usual search for crazy homophobic stories today, and instead relax outside and work on a new type of tan that I'll call the reverse-farmer's-tan (I'll let you know how it looks when the cast comes off.)
Oh, and a word to pedestrians: Just because cars don't travel along bike lanes doesn't mean you shouldn't look both ways before stepping out in front of cyclists, forcing them to slam on their brakes unexpectedly with one hand because they were already hand signaling with the other, causing them to lose balance and fall comedically, fracturing their scaphoid.