Proposition 8 Was Discriminatory Nonsense
August 9, 2010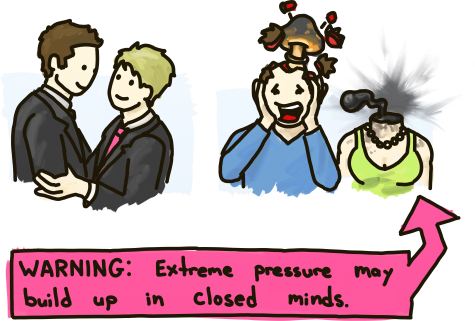 On Wednesday, just days after my wedding, a federal judge declared that California's Proposition 8—a constitutional amendment banning same-sex marriage—violated the constitutional rights guaranteed to all U.S. citizens.
I couldn't be happier. Canada got its first taste of equal marriage rights in 2003, and eventually recognized it nationwide in 2005. Knowing that so many people south of the border will soon share the same joy and freedoms that we have up here makes me giddy with anticipation.
Californians still have to wait a little while before enjoying their full legal equality, mind you. Anti-gay lobbyists have already appealed the decision and a temporary stay has been put into effect, possibly until a decision is reached there. I don't know enough about the U.S. justice system to offer a prediction of the outcome, but I do think that the anti-equality side simply hasn't demonstrated arguments that can hold up to court scrutiny. After all, according to them, Canada should be a smoking crater by now. Of course, in reality, nothing bad has come of it by any demonstrable standard.
California's governor, Arnold Schwarzenegger, and Attorney General, Jerry Brown, has both filed formal motions to lift California's stay, which would reintroduce full equality immediately. Until then, congratulations to California for your important step toward the full equality that your constitution guarantees!