Homophobic Baseball Manager Gets The Boot
August 11, 2010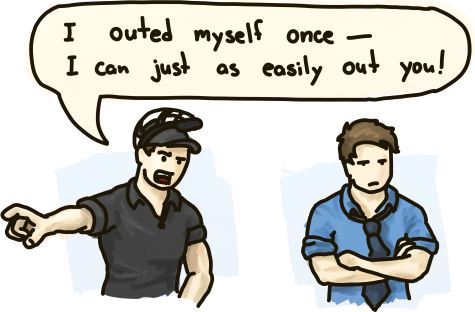 Gay people put up with a lot of abuse. Umpires, too. I imagine, then, it's not easy being a gay umpire. Just ask Billy Van Raaphorst.
On July 31st, after two Edmonton players were tossed out for misbehaving at a minor league game, Van Raaphorst found himself enduring a spectacular assault by the team's manager, Brent Bowers. The homophobic tirade, complete with slurs, obscenities, threats, and gestures involving grabbed ankles, shocked onlookers.
The scene was reportedly so offensive that other umpires refused to officiate games for the entire Golden Baseball League until Bowers was punished—which he was, late last week. Originally given an unsatisfactory two-day suspension, the league eventually decided upon a $5000 fine along with a suspension for the rest of the year. Bowers has since resigned.
Probably for the best, too. His team lost all three games that weekend, 3–2, 6–2, and 2–1. Ouch!