Tories Snub Pride Parade Again
August 18, 2010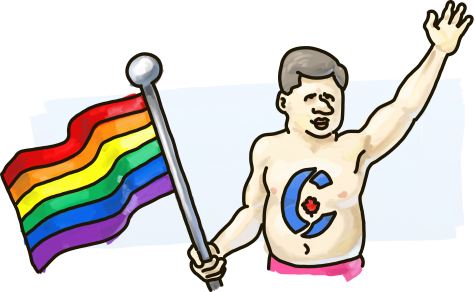 Last Sunday was Montréal's 18th annual Pride parade, and it was fantastic! Organizations, businesses, churches, sports groups, hobby groups, and tons of other equal-rights supporters marched down a brand new parade route in view of over 100,000 spectators. The parade even included politicians from every party—except one.
As in previous years, politicians of all stripes were invited by Pride organizers to come and join in the celebrations, and—like the years before it—the Conservative invitees ignored it entirely. Their absence didn't go unnoticed, either. Speaking to the media in French, author and television personality, Jasmin Roy, was particularly succinct: "I don't think we could speak of this as indifference; it's clear the Harper government doesn't like gay people."
Indeed, Stephen Harper's Tories have fought against equal rights for gay people at every conceivable step, opposing everything from marriage equality (even after it had become law) and protection from hate crimes, to smaller offensive gestures like removing all references to homosexuality from their new immigrant guides.
Given their behavioural history, I never really expected to see Tory party representation in the parade. Actually, I would have been shocked to see it and probably would have joined in a chorus of boos—an appropriate gesture of no where near the level of disrespect and consequence that this government has already displayed toward us gays.
Still, this is a very public example of what our government doesn't represent, and that's all Canadians. Whether Tories like it or not, the government is here to represent everybody—not just those that voted for them. And while Harper's Tories may have a profound lack of sensitivity and understanding toward gay people, we're still a large and vibrant community whose contributions to the country should have been acknowledged with representation at our biggest and most important cultural event. Honte à vous, Monsieur 'Arper!