Campus Freaks Out Over Gay Kiss Photo
August 23, 2010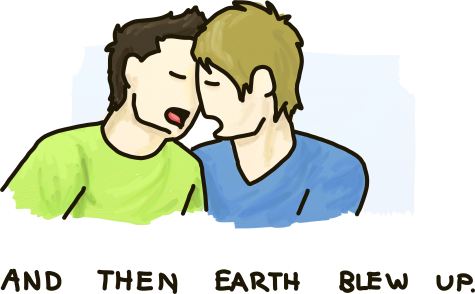 Considering that South Africa is now part of the same-sex marriage club, you'd think simply publishing a photo of a gay kiss in a university campus newspaper wouldn't be particularly controversial. Yet, alas, editors of a student-run newspaper at Stellenbosch University, just about 50 kilometers east of Cape Town, have found themselves dealing with what they're calling an overwhelming controversy.
The controversy started with a story about a kiss-a-thon happening in town. Editors had originally planned to illustrate the story with a photo of a straight, interracial couple, but decided to publish a photo of a gay couple instead. After publishing the photo, large numbers of the newspaper were found slashed, torn up, and on campus dart boards.
Roberto Millan, chairman of the school's gay and lesbian society, had a pretty insightful comment about the roots of this unexpectedly harsh reaction: "I was thrilled by the decision to publish [the photo] because we want to start a debate—we're not going away. There is too much homophobia across the continent which has been swept under the blanket, fueled by Western churches."
Well said. I mean, what's more crazy here: A harmless kiss, or a violent and angry reaction to a harmless kiss?