Police Send Terrible Response To Gay-Bashing
October 15, 2010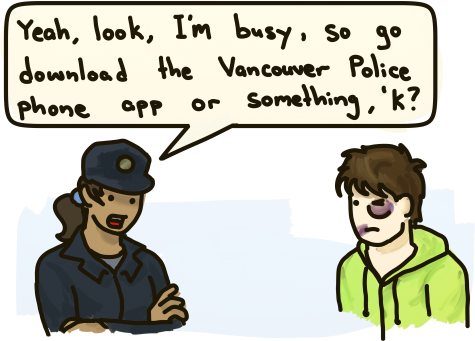 A gay-bashing victim who was assaulted in Vancouver earlier this month is very unhappy with the response he received from the police.
Thomas Pope says he was waiting for his friends outside a McDonalds when two men started taunting him with homophobic slurs. When his friends finally stepped outside, the two men turned their taunts to one of them as well, eventually escalating to violence. Thomas was punched several times in the face, and his friend, Jacob Pyne, had a tooth knocked out. Their female friend, Sara, wasn't targetted. "They said that they had no problem with her because she's a girl," Thomas told the press, "they had a problem with [Jacob and me] because we're "faggots."'
The police were called and arrived quickly, but that's where things got weird. "She was swearing at us and yelling at us, the police officer," Thomas told the press. "She said it was just a he-said-she-said incident and wouldn't take my statement; that they were off the clock and we were lucky they even responded to the call."
It took the involvement of Spencer Chandra Herbert, a Vancouver MLA who was concerned about this story, to get the police's attention. An internal investigation which includes video surveillance is now underway.
It's supremely disappointing that the police allegedly behaved in this manner, because reporting homophobic attacks is exactly what needs to be done as soon as something like this happens. Here's hoping this ends up being resolved quickly!