Pope's Visit To Be Gayly Protested
October 29, 2010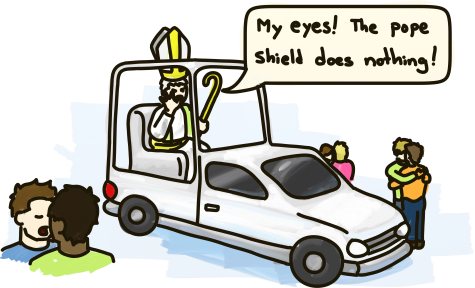 The world's most famous gay-disliker, Pope Benedict XVI, is being toted about Europe in his Popemobileâ"¢ this autumn, including a stopover in Barcelona. And while he's poping it up Spanish style, he'll be treated to quite the spectacle!
On November 7th, an organization called Queer Kissing Flashmob, has invited people from across Spain to come and protest the pope's backward views on gays and women by locking a little same-sex lip. If all goes according to plan, while the Popemobileâ"¢ popes his popiness from the Plaza de la Catedral to the Sagrada Familia, he'll be surrounded by hundreds of men and women, all gay-kissing each other.
Not one to be outdone, the pope is reportedly sharpening his laser-like gaze in preparation for the glowering of a lifetime. Fortunately, even the most accomplished glowerer is powerless when his subjects' eyes are closed in a passionate and super-hot, gay kiss.
Best of luck to the organizers! May your Queer Kissing Flashmob be the queerest, kissingest, flashiest mob yet!